Celebrate spring, sustainability and farmers with the Spring 2020 issue of Food & Drink magazine Farm to Table: Forces of Nature as I (virtually) visit farmers across Ontario who are working hard to bring us nutritious food and making sure they're taking care of Mother Nature in the process. Learn about Woolleys' Lamb in Norfolk County, Heritage Cattle Company in Keene and the Van Raay family and The Whole Pig in Dashwood. Plus a novel "online" farmers' market, Click Fork in North Eastern Ontario.
—
Solve summer meal planning with "1 x 3″ in the Summer 2019 Food & Drink magazine. Batch-cooking one main recipe with 2 easy recipes for the best leftover meals you can imagine! Featured on page 82 of the print edition and page 84 online.
Big-Batch Tandoori Chicken
Chicken Summer Vegetable Curry
Tandoori Chicken Avocado Wraps
Chili-Rubbed Pork Loin Roast with Fresh Salsa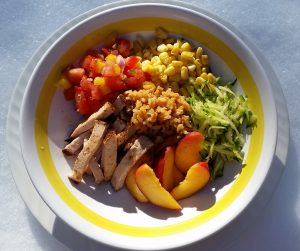 Summer Chili Pork Rice Bowl
Maple Lemon Grilled Salmon
Salmon and Asparagus Fusilli
Fish Tacos with Pineapple Slaw
Spicy Grilled Tofu Skewers with Quick-Pickled Vegetables
Spicy Tofu Nut Burgers
Spicy Tofu Bibimbap
***
Warm up your winter evenings with seasonal Sunday Suppers from Winter 2018 Food & Drink magazine, page 35 of the print edition and page 37 of the online magazine.
Chicken & Sweet Potato Cottage Pie
Chili Beef Pot Roast with Corn & Peppers
Phyllo Wrapped Herbed Pork Tenderloin with Mushrooms
and the hugely popular Rigatoni & Ricotta Meatball Bake
***
Regal Roasts are featured in Holiday 2017 in Food & Drink magazine on page 116 of the online edition (page 114 in print).
"This time of year calls for wowing your dinner guests with an impressive centrepiece roast – at any festive dinner party or switching things up on Christmas Day."
Berbere-Rubbed Crown Roast of Lamb with Fruited Couscous
Porcini-Dusted Roast Rack of Veal with Ratatouille Vegetables
Ginger-Citrus-Brandy Brined & Glazed Crown Roast of Pork with Root Vegetables
Fennel & Peppercorn Rack of Venison with Pickled Figs
***
Jennifer's Seeds of Greatness article is in the Early Summer 2017 issue of Food & Drink magazine.
See her recipe on the cover and read the article and recipes online. (page 33)
***
Read Jennifer's Cottage Holiday article and recipes in the Holiday 2016 Food & Drink magazine (page 118 print edition; 122 online edition)
Celebrate the holidays at the cottage with:
Sizzling Shrimp Cocktail
Velvety Beet Soup
Maple Sage-Glazed Roast Turkey with Apple Whisky Chutney
Buttered Roots and Sprouts
The Creamiest Mashed Potatoes
and
Cranberry Lemon Cake with Lemon Cream Frosting