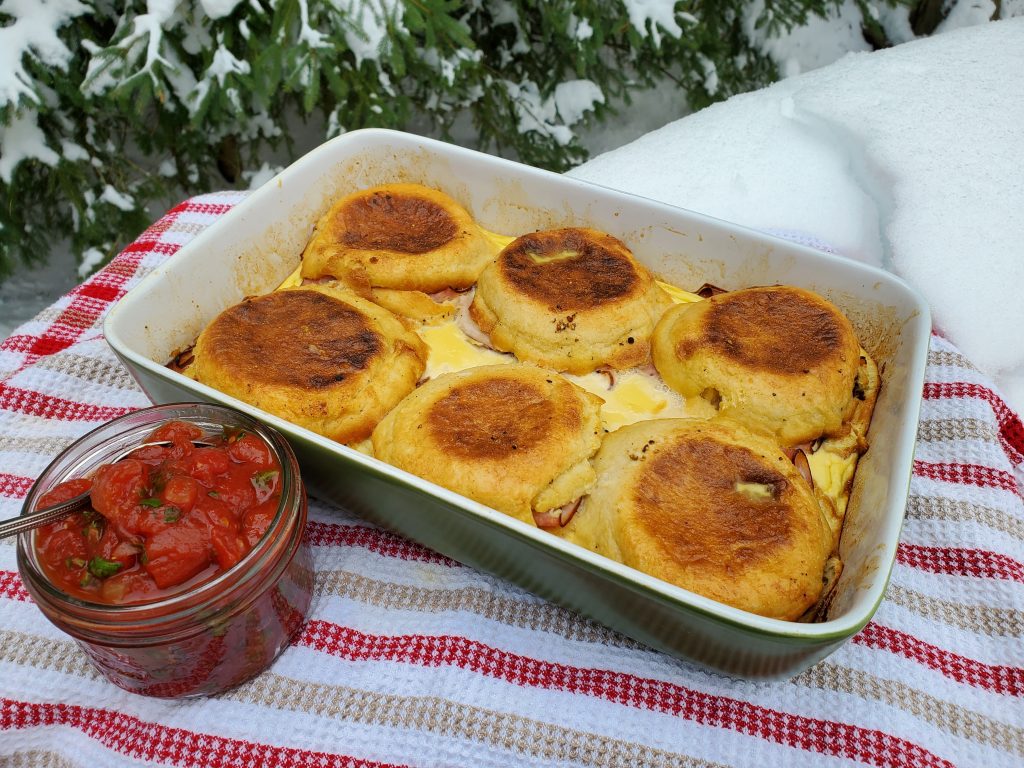 Ham and Eggs Strata with Tomato Basil Jam
By Jennifer MacKenzie
As featured in Food & Drink Magazine
Take the components of classic breakfast sandwiches and bake them in a strata and you've got a satisfying breakfast with very little fuss. Get creative with the sandwiches by adding sliced cheese (something nutty or sharp is best) or thin tomato slices just before baking. The tomato jam is a fantastic complement to the rich sandwiches and is just as good made with San Marzano-style canned tomatoes as it would be in the height of fresh tomato season. The burst of basil really caps it all off.
6 English muffins
12 thin slices Black Forest ham or smoked back bacon
6 eggs
1 cup (250 mL) milk
1 tbsp (15 mL) Dijon mustard
1/4 tsp (1 mL) freshly ground pepper
Pinch salt
Tomato Jam
1-1/2 cups (375 mL) drained diced canned tomatoes (preferably San Marzano), see Tip below
1/4 cup (60 mL) granulated sugar
2 tbsp (30 mL) finely chopped onion
1 tbsp (15 mL) red wine vinegar or white wine vinegar
1/4 cup (60 mL) chopped fresh basil
Salt and freshly ground pepper
1. Split English muffins and sandwich 2 ham slices between tops and bottoms. Arrange in a buttered 7 x 11-inch (18 x 28 cm) casserole or baking dish. In a bowl, whisk eggs until blended; whisk in milk, mustard, pepper and salt. Pour over sandwiches in dish and use a rubber spatula to carefully flip sandwiches over a few times, pressing gently, so the muffins absorb the egg mixture. Cover and refrigerate for at least 6 hours or for up to 24 hours.
2. For tomato jam, combine tomatoes, sugar, onion and vinegar in a small saucepan. Bring to a boil over medium-high heat, stirring until sugar is dissolved. Reduce heat and boil gently, stirring often, for about 20 minutes or until reduced to a thick, jammy consistency. Transfer to a bowl and let cool completely. Stir in basil and season with salt and pepper. Cover and refrigerate until serving, for up to 3 days.
3. To serve, preheat oven to 350°F (180°C).
4. Remove jam from refrigerator and let come to room temperature. Uncover baking dish and carefully flip sandwiches over in dish.
5. Bake strata for about 30 minutes or until a knife inserted in the centre comes out clean. Let stand for 5 minutes before serving. Serve sandwiches with tomato jam dolloped on top or on the side.
Makes 6 servings.
Tip: You'll need one 28 oz (796 mL) can tomatoes for the jam. Drain off the juice, reserving for another use, and measure 1-1/2 cups (375 mL) diced tomatoes after draining. If you have whole tomatoes, remove the whole tomatoes from the juice, chop the drained whole tomatoes, and place in a sieve to drain off excess juice then measure diced tomatos. Reserved juice can refrigerated in an airtight container for up to 3 days or frozen for longer storage. Add it to soups, sauces or chili.
Step 2: Cook until thick and jammy; let cool then stir in basil: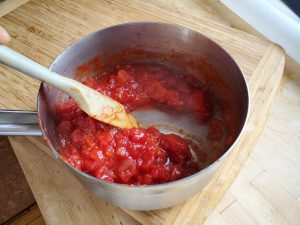 Ham and Eggs Strata with Tomato Basil Jam